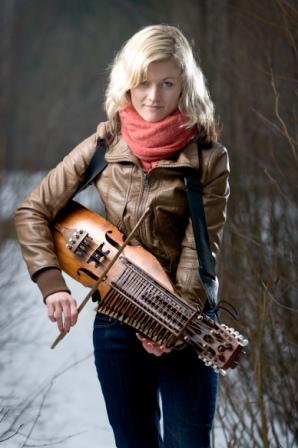 Josefina Paulson has been playing the Nyckleharpa and music of her native Västmanland from a very young age.  She was awarded the title Riksspelman (National Folk Musican) in 2008.  In 2009 she received the Cultural Award from VLT, and in 2011 received the Bror Hjorth Scholarship for "motivation technically brilliant … a very committed performance on the nyckelharpa with both the preservation of cultural traditions and a gentle personal and creative rejuvenation". 
Josefina has a bachelor of music degree from the Royal Academy of Music in Stockholm, with the nyckelharpa as her main instrument.  She embraces the many possibilities of her instrument; from the roots of the Uppland tradition, to its large crown of new influences from other cultures.
She is a musician who stands grounded in her own tradition, while exploring new territory.
She has built a strong reputation in the UK as a musician, both solo and in collaboration, and as a very popular teacher of the 'harpa and we are pleased to see her coming back to Wales.